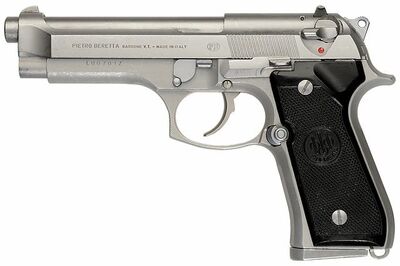 The Beretta 92FS Inox
 is a 9x19mm semi-automatic handgun seen in
Beverly Hills Cop III
.
It is essentially a Beretta 92FS constructed out of stainless steel with satin finish rather than steel with blued finish.
Description
Edit
The Inox models (from the French "inoxidable" meaning non-oxidizing) feature the following parts made in anodized stainless steel with a light bead blasting finish rather than blued carbon steel: the barrel, the slide (including the extractor, the safety and the right-side manual safety lever), the trigger (and trigger pin), and slide stop lever. The older Italian-made Beretta Inoxes are usually better received than the American-made Inoxes, which feature blued controls, giving them a semi two-tone look.
The Inox models are some of the most popular Berettas and are still produced today.
Ad blocker interference detected!
Wikia is a free-to-use site that makes money from advertising. We have a modified experience for viewers using ad blockers

Wikia is not accessible if you've made further modifications. Remove the custom ad blocker rule(s) and the page will load as expected.